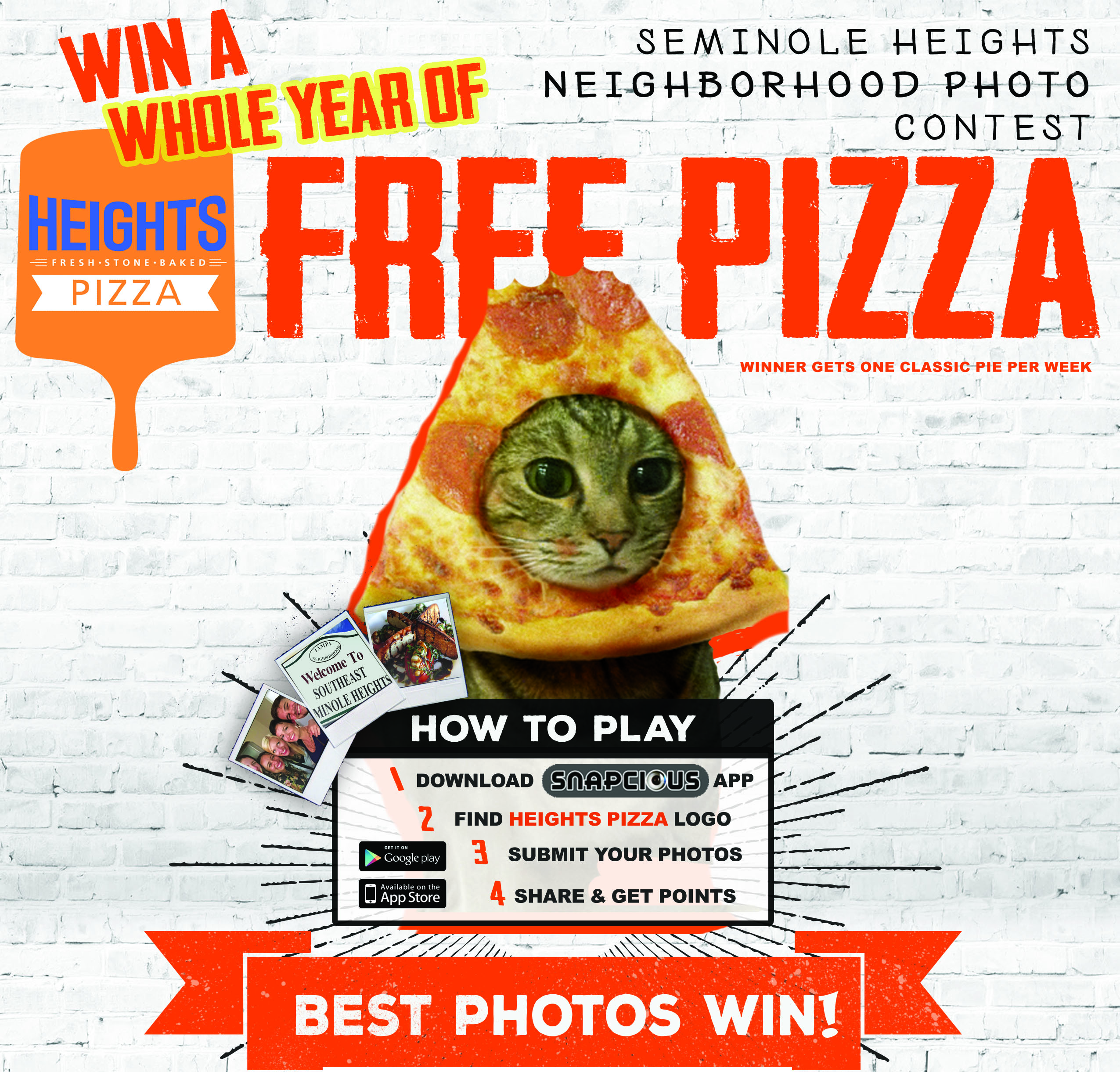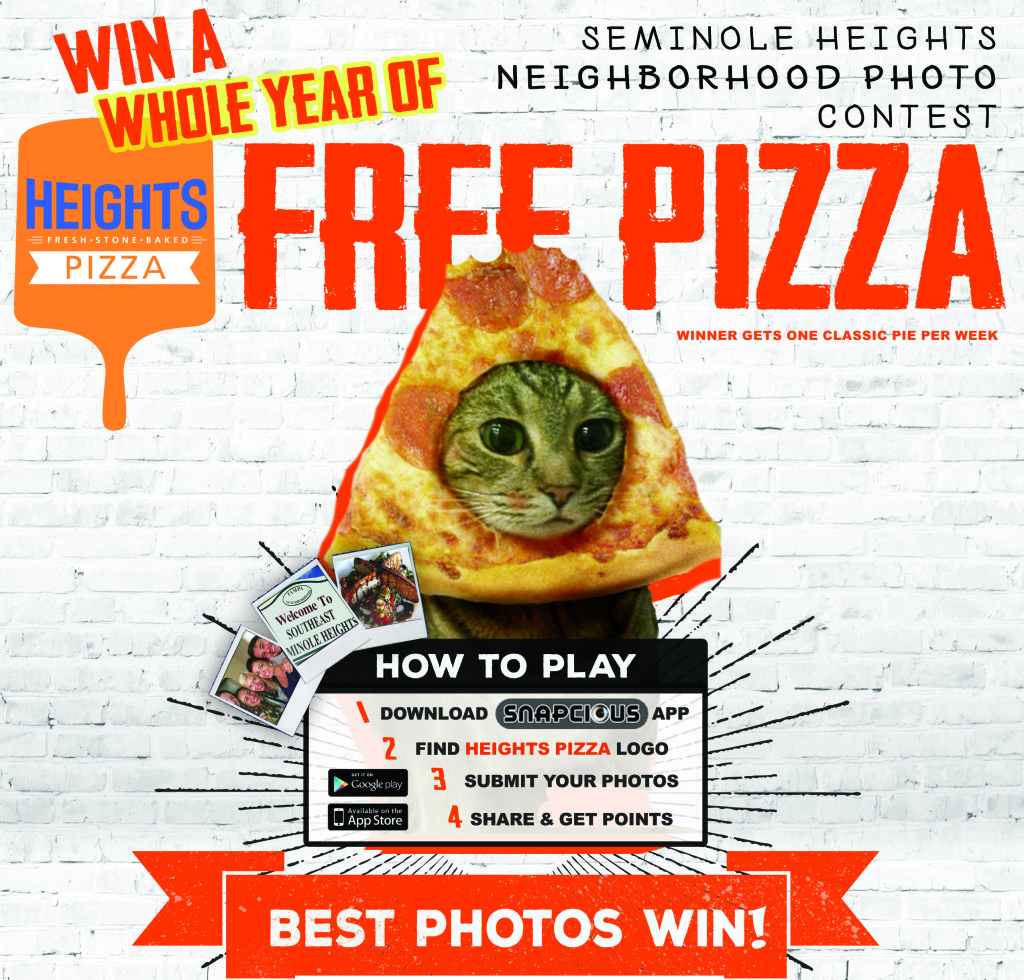 Play the Seminole Heights Neighborhood Photo Contest
Find the challenges with the HEIGHTS PIZZA logo
Submit your photos
Share & Get Points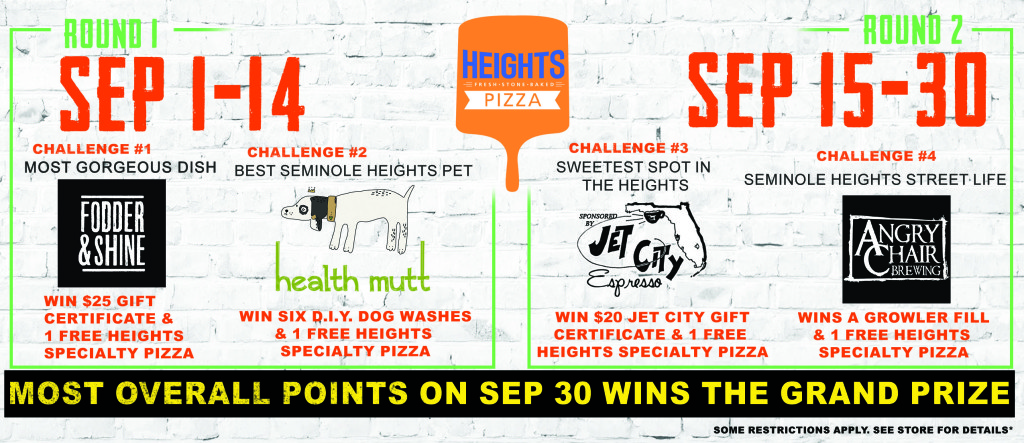 Frequently Asked Questions
What's this all about?
We put together this contest to celebrate life in Seminole Heights. There's something different about our little community in the heart of Tampa.  Something special about the folks living here. We are a new business in the area, and we are proud to live here and want to showcase all the awesome stuff going on in Seminole Heights.
How do I enter my photos into the contest?
We have partnered with a new app, Snapcious, to allow you to upload your photos.  It's totally free and it allows us to track and keep up with the points you get.  Once you download the app, you'll see challenges and will want to look for the ones with the Heights Pizza logo next to them.
To enter, you'll just need to download the official app – Snapcious here.
Where can I find the contest?
The contest takes place via our official smartphone app – Snapcious.  It is available for iOS or Android devices. It makes submitting photos, sharing, and keeping score super-duper easy and you can download it here.
How often can I enter?
You can enter as many photos as you like.  Be creative and try to keep the photos within the theme of each challenge.
What are the official rules of the contest?
Contest runs from September 1, 2015 to Septmeber 31, 2015. No purchase necessary to participate. Upload your photos to Snapcious and the highest rated photo in each challenge will win the advertised prizes.  Heights Pizza and the other sponsors created this contest to highlight the community and are not to be held responsible or liable for uploaded content or any damages of any kind in any way (our lawyers made us put that).
Please be respectful with your photo submissions.  Grand prize is awarded to the user with the highest ranking from most activity and will get one (1) large classic pizza from Heights Pizza each week for 52 consecutive weeks.  Winner will be presented with a coupon book that expires each week. Carryout only.
I don't live in Seminole Heights/Tampa. Can I enter the contest?
Anyone can enter the contest, but it would be pretty silly to try and win free Heights Pizza for a year if you don't live in the area.
How do I know if I'm a winner?
We will announce winners on the facebook event page, our fan page, and this website at the end of the contest period on September 31, 2015.
What are the prizes?
Challenge #1 – Best "Most Gorgeous Dish" photo wins a $25 Fodder & Shine gift certificate and 1 free specialty pizza from Heights pizza.
Challenge #2 – Best "Best Seminole Heights Pet" photo wins 6 D.I.Y. Dog Washes from Health Mutt and 1 free specialty pizza from Heights pizza.
Challenge #3 – Best "Sweetest Spot in the Heights" photo wins $20 Jet City Espresso gift certificate and 1 free specialty pizza from Heights Pizza.
Challenge #4 – Best "Seminole Heights Street Life" photo wins a growler fill from Angry Chair Brewing (must be 21 or older to claim) and 1 free specialty pizza from Heights Pizza.
Grand Prize – The most active participant over the span of the contest (all month long) will win a whole year of free Heights Pizza.  That's 52 CLASSIC PIZZAS. (Almost a $1000 value) WHOA. 
Can I win several prizes?
Yes. In theory, one person could win each challenge AND the grand prize. Like a boss.
How can I win the grand prize?
The beauty of this contest is that it is participation based.  We want to award the person with the most Seminole Heights pride. The person with the most points and highest ranking will win the grand prize. Points are accumulated for sharing photos, receiving ratings on your photos, sharing your photos, and even rating other photos!  So to win the grand prize, you have to be the most active person in the contest.
How will I receive the prize?
Pick up all the prizes (in gift certificate form) at Heights Pizza.  Grand Prize winner will get a booklet of 52 pizza coupons.  YUM.
How will you or Snapcious use and/or share my information?
See app for details, but we promise you to not be sneaky about it.  We're friends with the creators and they are really great people and have a very strict privacy policy. They will not share your information with third parties.
How are the winners selected?
At the end of each of the 2 rounds, we will tally up the scores for each challenge and the photo with the best rating wins! The person who was ranked as most active throughout the entire contest wins the GRAND PRIZE – AN ENTIRE YEAR OF FREE PIZZA.
I think I'm having technical issues with the app, what should I do?
Hit us up on our facebook page or via e-mail. We will respond within 24 hours to get that stuff figured out.
Recent Comments
Archives
Follow us on Twitter
My Tweets
Categories