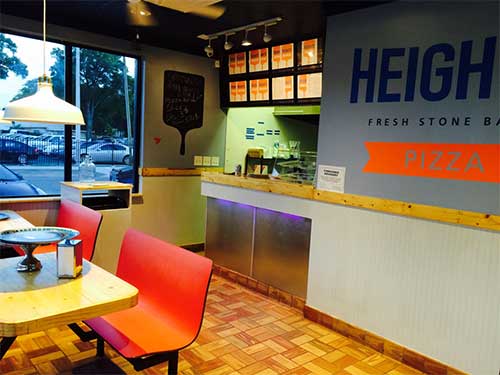 Seminole Heights Pizza Lovers – Come try the newest pizza spot in Seminole Heights! We've got some interesting menu options including specialty pizzas, authentic Colombian empanadas, delicious salads, and boldly flavored chicken wings. If you want pizza, and you live in the Seminole Heights neighborhood – DELIVERY IS FREE!  Call us today and try out our specialty pizzas today at 813-644-7130.
A Classic Seminole Heights Spot Gets a Face Lift
Fans of Seminole Heights' bustling culinary scene can now add another surprising new Seminole Heights pizza spot to their dinner option portfolio: On the corner of N Florida and Broad St, the Colombian and Brazilian owners have completely transformed former Brooklyn Express Pizza into "Heights Pizza". With noticeable changes, including a paint job, new equipment, and a vibrant logo, they have turned the space into an inviting, bright, and modern pizza take-out and delivery restaurant.
As a member of the Seminole Heights neighborhood, I wanted to create a pizza experience that the community can be proud of. – Miguel, Heights Pizza
Heights Pizza Has a Legacy of Great Food!
One addition was especially important to first-time pizzeria owner, Miguel: A new stone pizza oven that produces fresh and hot stone-baked pizza. The menu is packed with items Seminole Heights pizza customers expect from a pizza take-out service: classic pizza pies, wings, fries, calzones and much more. But there are also some one-of-a-kind specialty items on the menu. Homemade empanadas are the Colombian owners' forte: Miguel's family has owned empanada businesses in their hometown Bogotá for generations. The meat or cheese filled dough pockets are served with authentic Colombian ají salsa.
An experienced chef, who is originally from Seminole Heights, was added to the team to create exciting pizza and wing varieties. Alejandro, also from Colombia, brings a lot of pizza-baking experience and energy to the Heights kitchen. Together, they developed a menu that can compete with the best restaurants of the area, but at neighborhood-friendly prices.
It's a Unique Fusion of American & Colombian Cuisines!
Heights Pizza's specialties include the popular Estafetta pizza that surprises with a pesto base and fresh vegetarian toppings. Recently two white pizzas were added to the menu, one with a garlic oil base, and the other with a base of ricotta. The homemade sauces for the chicken wings are Heights originals: the raspberry chipotle sauce pairs well with the homemade blue cheese dip, while the lime cilantro sauce is a light and refreshing alternative on a hot and humid day in the Tampa Bay.
Other Seminole Heights pizza crowd favorites: Colombian, Mexican, and Brazilian pizzas reflect the owners' heritages. Heights Pizza opened officially on April 11th. The team is looking forward to exciting new additions to the atmosphere of the area, like a mural on the side of the building to highlight local artistic talent.
Heights Pizza delivers free in Seminole heights with a $15 minimum order. Call us today at 813-644-7130.
Recent Comments
Archives
Follow us on Twitter
My Tweets
Categories